! (C) Copyright ShropMog >
Trip to Attingham Park with Staffordshire Centre
11th June 2017
| | |
| --- | --- |
| | |
| | |
| | The National Trust made us very welcome at Attingham Park near Shrewsbury. We had a superb introductory talk from "The Second Lord Berwick", dressed in full period costume. An excellent day out to this superb Georgian mansion house in the Shropshire countryside. |
---
Drive it Day at RAF Cosford with DonMog
23rd April 2017
| | |
| --- | --- |
| Morgan reserved parking at the Museum | The ShropMog 4/4 on display |
| | Jaguar Club also present |
| | |
| | |
| | |
---
MSCC Staffordshire 30th Anniversary Weekend
September 9th-11th 2016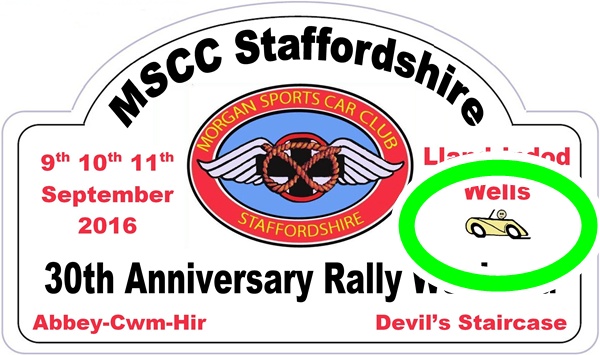 The ShropMog car can be seen on the rally plaque.
| | |
| --- | --- |
| Not the best start for ShropMog | The 4/4 is returned to base with a broken fuel pump. |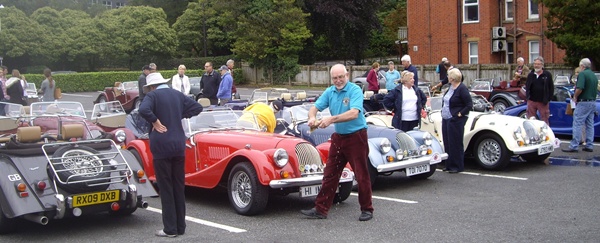 Hotel car park.
| | |
| --- | --- |
| Scenic run via Devil's Bridge | Devil's Bridge |
| Devil's Bridge | Gala dinner |
---
Gawsworth Hall Youngtimer Car Show
May 30th 2016
| | |
| --- | --- |
| The ShropMog 4/4 on display | A lovely view of the timber-framed hall |
---
MSCC Techniques Speed Championship Drivers' Dinner and Awards
| | |
| --- | --- |
| Lord Unstone wins Class 2. Not trusting the photographers in the room, takes his own picture!! | Tim Harrison Class 10 |
| Greg Dixon-Smith is the Overall Championship Winner | |
| Tim Harrison is in charge of issuing fines for misbehaviour during the season. All proceeds were in aid of the Air Ambulance. | |
---
Joule's Brewery - A night with MSCC Staffs Centre in Drayton
Allen and Sheila organised a great evening at the Joule's brewery behind the Red Lion Inn, Market Drayton. ShropMog didn't need a second invitation to this sort of event. The brewery tour was followed by an evening of drinking with a carvery supper. Joule's Brewery now has the ShropMog official seal of approval and the Slumbering Monk was our preferred beer. See our Links page for their web site details.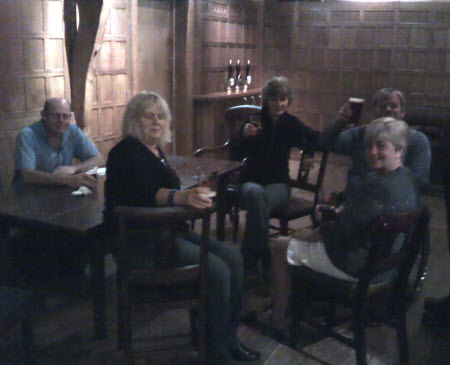 ShropMog doing what they do best in the Mouseman oak panelled room.
| | |
| --- | --- |
| Is that Al Murray hosting the tour? "All hail to the ale" | Even on a brewery tour, Kevin manages to get the spanners out! |
| Staffordshire Centre wait in line for their carvery... | ... while ShropMog prop up the bar ! |
---
End to End Charity Run Calls in at Tudors - 23rd June
Keith and Malcolm did the LEJOG run in Keith's Morgan, using only 'A' and 'B' roads. They were collecting sponsorship for the PDSA Charity and stopped off for a fund raising eevnt at Tudors in Market Drayton. There was a raffle and various services such as nipple greasing were available in exchange for donations.
| | |
| --- | --- |
| An excellent turn-out of well-wishers with many Morgans and other classic cars. | Nipple greasing !! |
| Keith and Malcolm set off into the evening. | How many mechanics does it take to change a Morgan sidelight bulb ? |
---
Award Dinners

As we get towards the end of 2009, it's time for the annual dinner and awards events.



At the SpeedMog Drivers' Dinner, Clive seems to have turned it into a wine tasting event.



Winners celebrate at the SpeedMog Drivers' Dinner.



What a sight! How many MSCC Membership Secretaries can you get at the Staffordshire Centre Annual Dinner!


---
Trentham Gardens
ShropMog and Staffordshire members gathered at Trentham Gardens, just south of Stoke-on-Trent, on Sunday 9th August, 2009. Great weather for this lovely setting. The Morgans were on display in the gardens, by special arrangement.


| | |
| --- | --- |
| Cars lined up in front of the lake. | There was a lot of interest from the public in this, the Centenary year. |
| Lovely gardens. Plenty to see and do with a variety of gardens, countryside, shopping and eating - well, it was the MSCC Staffordshire Centre! | Jayne and Simon turned up on a vintage tandem. Unfortunately it had to be left chained to the railings as bicycles are not permitted in the garden area. |
---
Blackrock Sands 2009
ShropMog and Staffordshire members had a run out to Blackrock Sands near Porthmadog on Sunday 14th June. Great weather for this informal, relaxed and very enjoyable event.


| | |
| --- | --- |
| Cars parked on the beach. | Keith and Jeff prepare for this year's Wimbledon. |
| Is this a new Morgan bonnet mascot? No it's Jeff back from a swim in the sea. | Picnic, drink and BBQ on the catering side. Pauline's award winning fruit cake. Games to play as well. |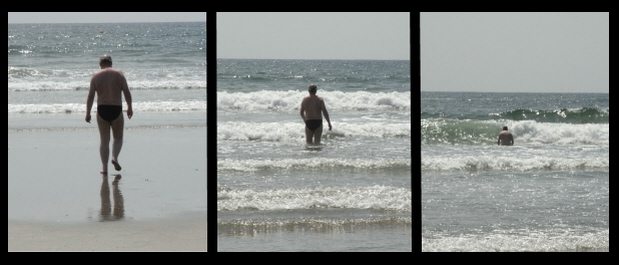 Jeff does a Reggie Perrin - or should that be Reggie Parsons?

Thanks to David P. for some of these photos.
---



Kirtlington Park Polo

ShropMog join the Porsche club and enjoy a champagne picnic while watching the polo match.

---
Buglawton School Classic Show 2007

A super day out with classic cars, tractors, steam and lots of other attractions.

The Morgan folk enjoy a picnic in the sunshine.

Now there's inspiration for the next ShropMog gymkhana!
---
Churnett Valley Railway 1940's Day


A good turnout of 25 Morgans were on display. Many people came in fancy dress from the 1940's.
The Staffordshire members were spotted without food!

---
Technical Talk

The ShropMog Technical Director (Kevin) presented a session on basic Morgan maintenance to a packed assembly at Tudors. There were many Morgans on the car park and the shropmog bonnet logo had pride of place.

North Pole Centre Walk

Bob and Pat organised a Christmas walk to blow the cobwebs (and hangovers) away. The theme was funny hats and we did get a few confused looks from the golfers.

Staffordshire Centre Christmas Party

Eat, drink and be merry. Traditional Christmas lunch, musical entertainment, dancing, party games and paper planes.

---
A Nice Day Out in your Mog - 21st August 2005

Bob and Pat organised a mystery event, starting with a walking treasure hunt around Fradley canal basin.

Then it was on to a local farm for a gymkhana with a garage parking speed test and this fiendish maze of cones to be navigated with minimal selection of reverse gear.

The afternoon was spent at a classic car show and the super day was completed with a fly-past of a Spitfire. Fantastic!
---
VSCC Prescott - August 2004


The Vintage Sports Car Club Prescott hill climb in August is a superb two day event. With lovely weather and the opportunity to get close to some classic machinery, its one not to miss.

There is full spectator access to the paddock areas. Pictured here is the 24-litre Napier Bentley, with the exhaust systems in place due to noise restrictions. Compare this with the picture of it at Silverstone for the Bentley Drivers' event further down this page.

Setting this ERA up on the start line...

And it's off in a cloud of tyre smoke. It's great to see these sports cars doing what they were designed for.
---
Midland Festival of Transport

ShropMoggers attend the 2004 event at Weston Park, with the Staffs Centre 11th April. The ShropMog Logo provoked some reaction as a child of one of the public was heard to say "Mummy, what is a ShropMog?". This is a good event with an Autojumble and the opportunity to visit the stately home.

---
ShropMog Pick Up Party Booze

A trip to the Bordeaux region of France is not complete without seeing the famous chateau. ShropMoggers take the opportunity to make the refreshment arrangements for this year's Christmas season: "a dozen cases of the 1966 vintage please", hence the reason for not travelling in the Mog when we visit Chateau Margaux this time!
---
ShropMog Camping - Tewksbury

With the Morgan Motor Company's Plus 8 35th Anniversary at Prescott on Sunday 14th September 2003, ShropMog decided to take full advantage of the good weather and camp at Tewksbury on the Saturday night.

The superb Abbey, elegant and sophisticated and a good contrast to ShropMog.



Hanging around the Gentlemens' toilet, ShropMog ladies(?) lower the tone on the camp site: "Looking for a good time, sir?".

After the campsite wine supply was exhausted and trying the local hostelries it was time for the Saturday night curry. Watch out - that chilli may be hot ... too late!
| | |
| --- | --- |
| | "They're all full of beer and curry!" quote of the weekend from a lady Caravan Club Member. |
---
ShropMog Drink Coffee!

A quiet evening of wine, beer, curry, beer and wine.
Right: Reminiscing about the 1970's cult TV series Kung Fu, Jayne and Kevin shout "Grasshopper" in the Indian restaurant. Below: ShropMog take coffee at Colin and Julie's.
---
ShropMog Meeting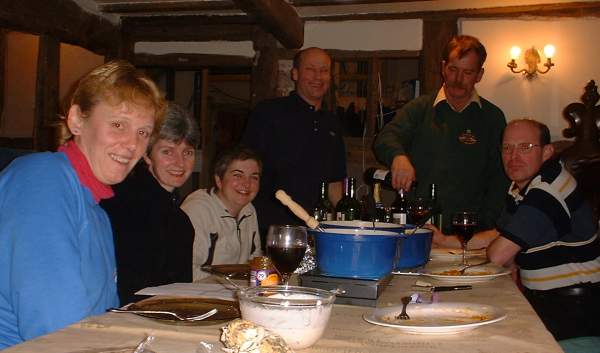 Six ShropMoggers gathered for an evening of wine, curry, wine, discussion, wine, wine and wine. This was a planning meeting for the 2001 ShropMog event.


---
Bentley Drivers' Club - Silverstone

This annual event includes Morgan and other sportscar racing. Many different types of car to be seen in action, full spectator access, autojumble. Usually a great day out. Until recent years entry to this event was at a reasonable price with access to all areas included. Silverstone is now under new management so the entry price has been increased and many of the popular stands remain closed to spectators.

Now that is an engine! 24-litre Napier Bentley

A typical scene in the paddock area 1992. Left to right, 4.5 Supercharged, a Speed 6 and a 3/8.
---
ShropMog in Holland 1999

On the Windmill Tour, ShropMog and friends became involved in all sorts of activity...


Erotic Cinema: Lights, camera, action! Two stars from the big screen pose for photographers at their movie premiere - or is it two beer-swilling ShropMoggers going into their preferred video retail chain store?
Blowing up gloves until they pop! Colin chose to remind us of the man with five willies, whose condom fits him like a glove.
What is happening? Strange activity in a ShropMog hotel room toilet. I'm afraid it's standing room only, ladies!
---
Dudley Show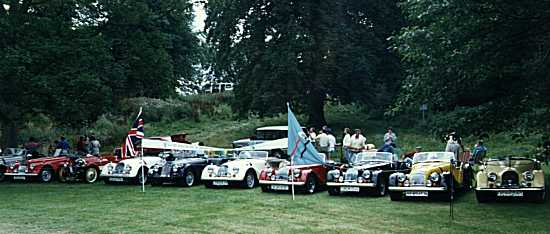 The Dudley Show at Himley was always a good event and well attended by Staffordshire and ShropMog members. Unfortunately the transport section was discontinued, so the evening BBQs are a think of the past.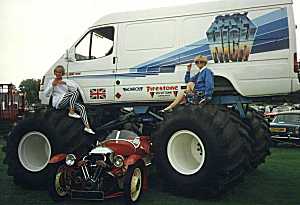 The 1993 Show featured a Monster Truck Display. Not wanting to miss a photo opportunity, Maurice positioned his 3-wheeler and Di and Anne climbed on to the wheels.
| | |
| --- | --- |
| Then Linda climbed inside one wheel... | ...and Jayne climbed into the other one. |
It must have taken 5 full minutes for them to squeeze in. Out of sight, the truck owner climbed into the cab and started the engine. The two ladies shot out of the wheels like Champagne corks!
---
| | |
| --- | --- |
| ShropMog Ladies at Chatsworth | The 1940's fancy-dress meeting at Chatsworth House was a great success. |
| How old is this picture? Kevin spotted with a full head of hair? | |

TOP


Thanks to Di, kevin, Lindsay, Julie and Colin for some of the pictures seen on this page.